We use multiple payment gateways to process your payments. This means that once you complete your order you will be redirected to one of our partner's websites, where the payment will be processed. This is a 100% secure way of online payments.
We do our best to provide multiple payment options worldwide. During the checkout, you can see all available payment methods. Currently, credit cards will only work if your 3D secure payment is enabled for your card.
Credit Card payments via Stripe
We accept credit card payments, but 3D secure payments must be enabled for your credit card. This means that Text Message Verification is required in most cases.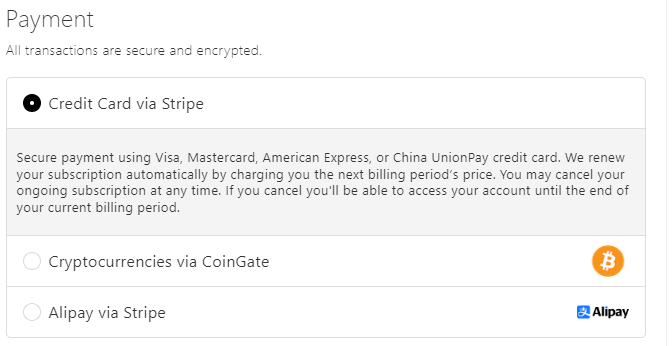 CoinGate
For added privacy, we accept cryptocurrency transactions via CoinGate:
Currently accepted Cryptocurrencies: Bitcoin, Ethereum, Cardano, Binance Coin, Litecoin, Bitcoin Cash, Dogecoin, Tether, XRP, Binance USD, and USDC.
Wire Transfer
For orders above 1000 EUR, we support manual wire transfers. If you select this, please create a support ticket after you made the payment.
Bank Name: TransferWise Europe SA (TRWIBEB1XXX)
IBAN: BE97 9671 6546 1249
Reference: Please include your order ID
Other methods
For your convenience, we also support special local payment methods:
We have recently been notified that one of our payment processors has decided to stop processing payments made through WebMoney due to the Russo-Ukrainian War. We apologize for the inconvenience.