In Kameleo v1.8 we introduced the Mobile Profiles. We have a unique solution to change the browser fingerprint of a mobile device.
This video was created by using Kameleo v1.8. In Kameleo v2 this is even more convenient. See the article for up-to-date screenshots.
About Kameleo Mobile Profiles
Kameleo could already change the browser fingerprint of your desktop browser. The need of introducing mobile profiles was big since websites show more trust in mobile browsers You can find a couple of tools that can emulate a mobile browser in a desktop environment but none of them will be so effective as Kameleo.
Kameleo lets you browse with mobile profiles on a real Android device or on an Android Virtual Machine (VM). This is necessary because in a desktop environment you cannot have the typical touch events and gestures that we have on Kameleo Mobile Browser, so fingerprint detection algorithms will detect other tools.
This solution also lets you simply connect the web through a Socks5 proxy with your Android mobile device. The good news is NO root access is required for Kameleo Mobile Browser.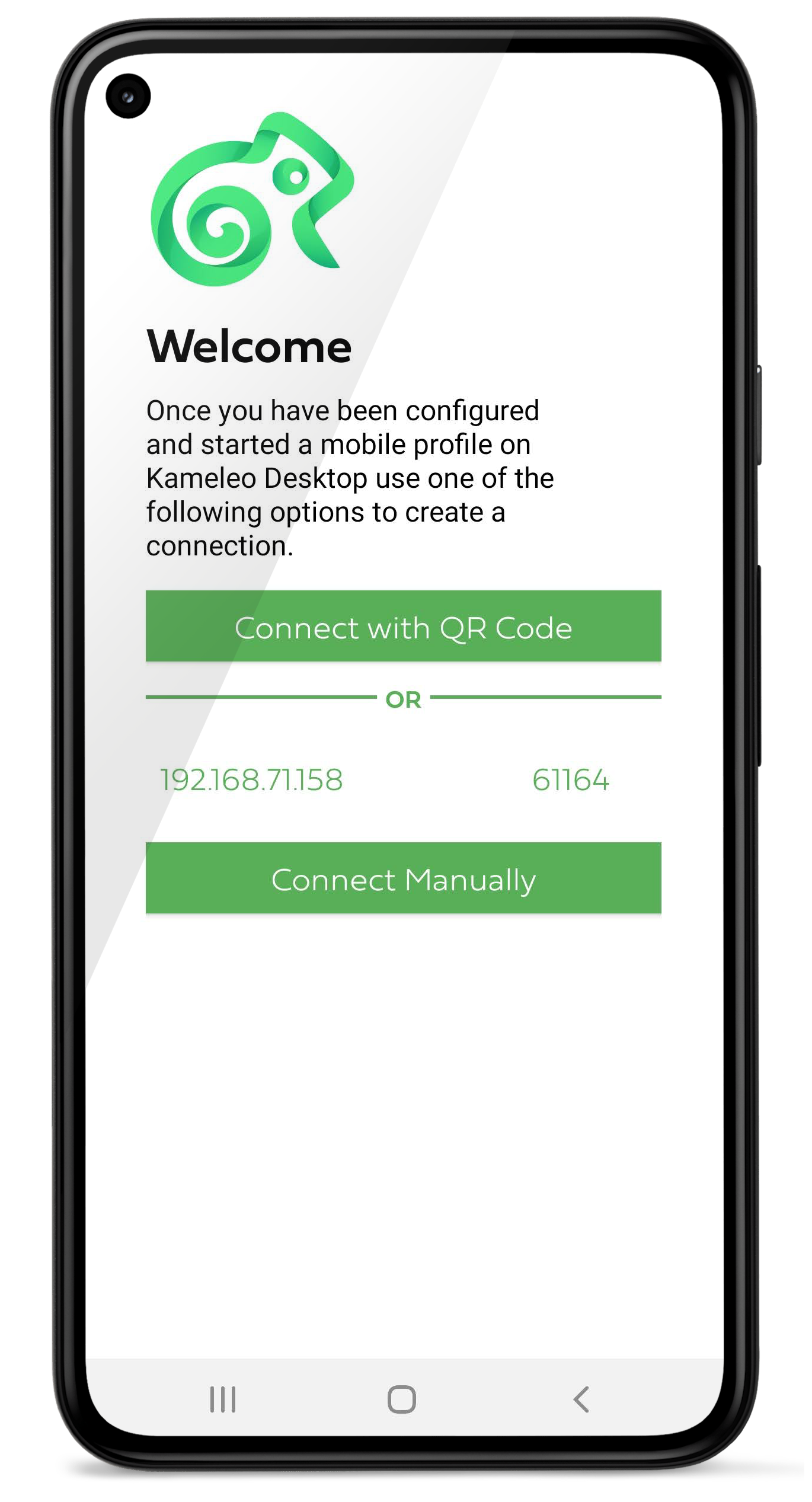 Get started – Tutorial
To make things work you will have to download the latest Kameleo.apk from our download page and install it on your Android device.
Then you will have to start a profile on Kameleo Desktop.
Finally, you will have to connect your mobile to the Spoofing Engine.
Let's see in details:
Install Kameleo to Android device
You can install the Android application to your mobile device by downloading the latest Kameleo.apk from our download page.
During the installation, your phone may alert you: For security, your phone is set to block the installation of apps obtained from unknown sources. You have to enable the installation from the settings to be able to install apps downloaded not from Google Play.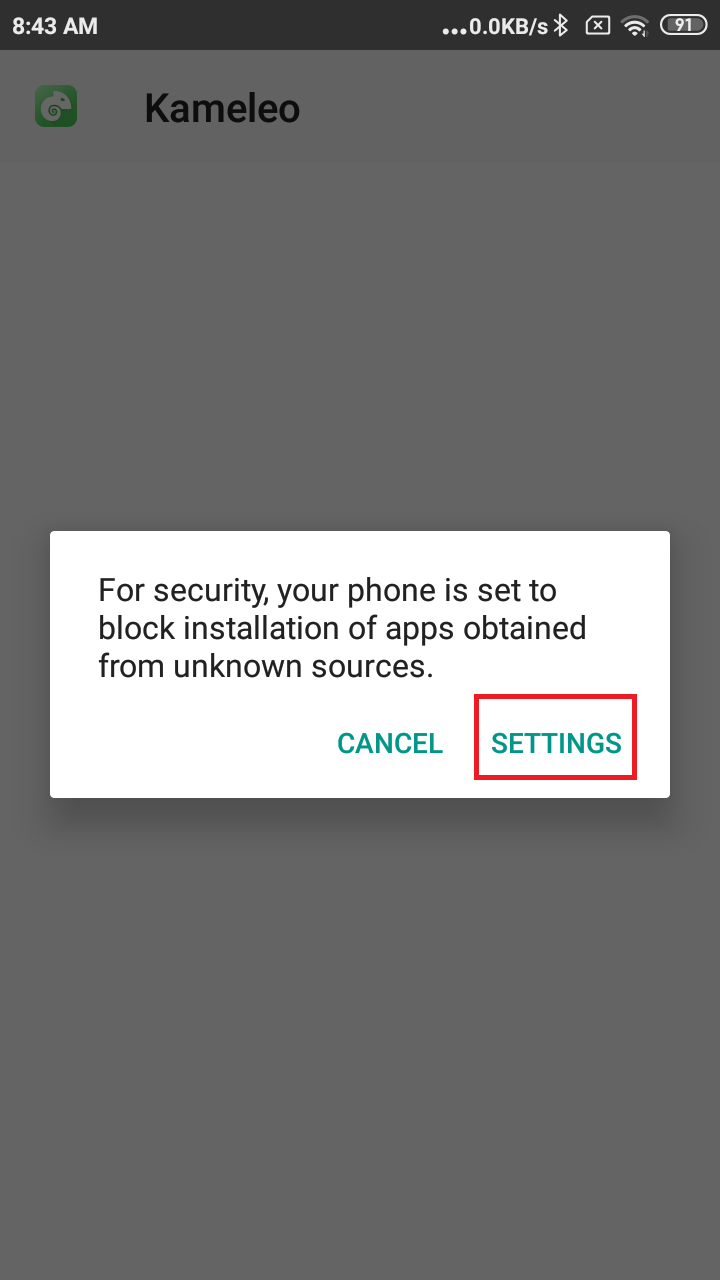 Simply enable the Unknown sources in Security Settings.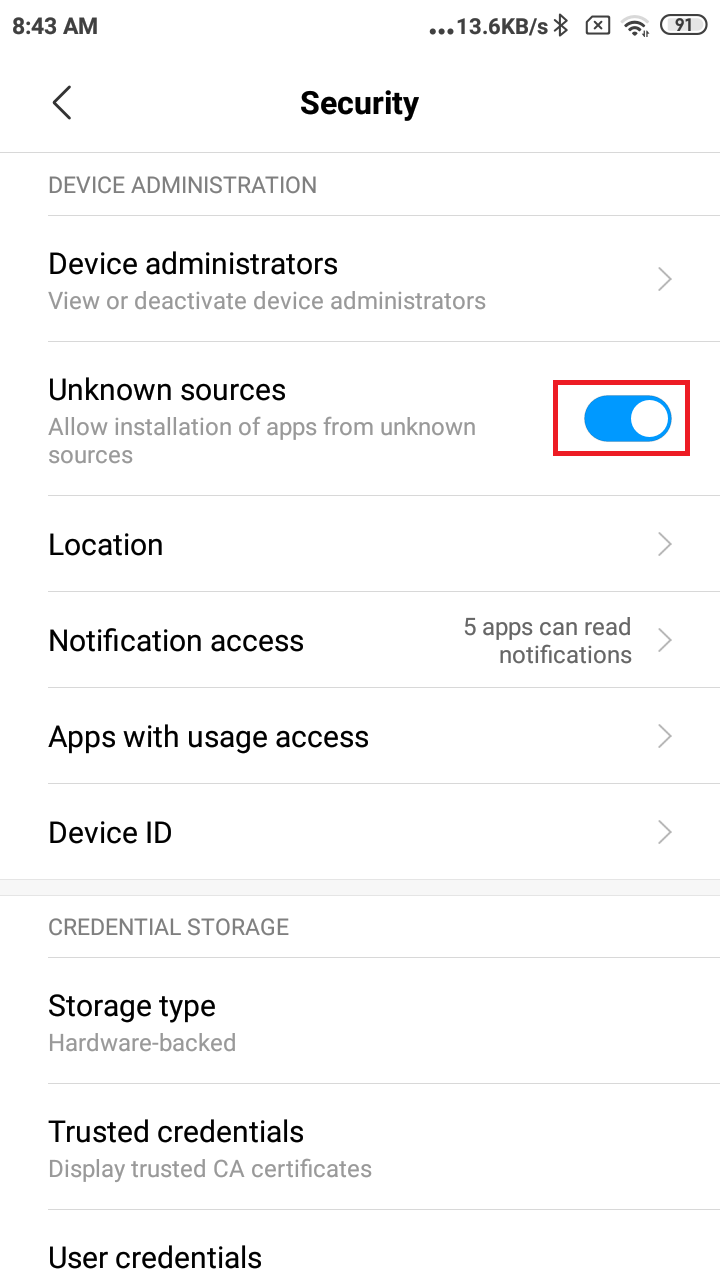 The Play Protect may also warn you: Blocked by Play Protect. Kameleo. Play Protect doesn't recognize this app's developer. Apps from unknown developers can sometimes be unsafe. Don't worry we do not access any data on your device.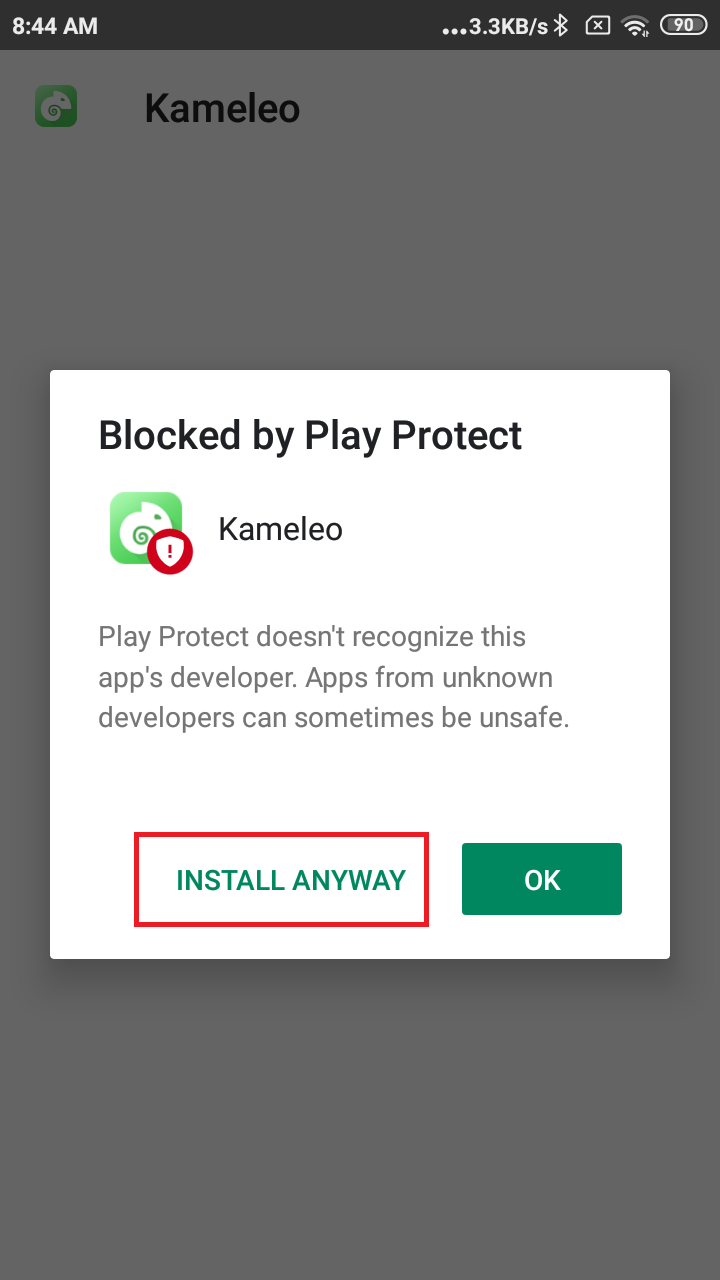 This can be installed to x86 Android VM or Genymotion Emulator as well. Supported Android versions are 4.4 and above, no rooting is required.
Start a mobile profile
Since Kameleo v1.8 you will be able to filter the Base Profiles and search for Mobile Devices. Android and iOS can be selected as an OS.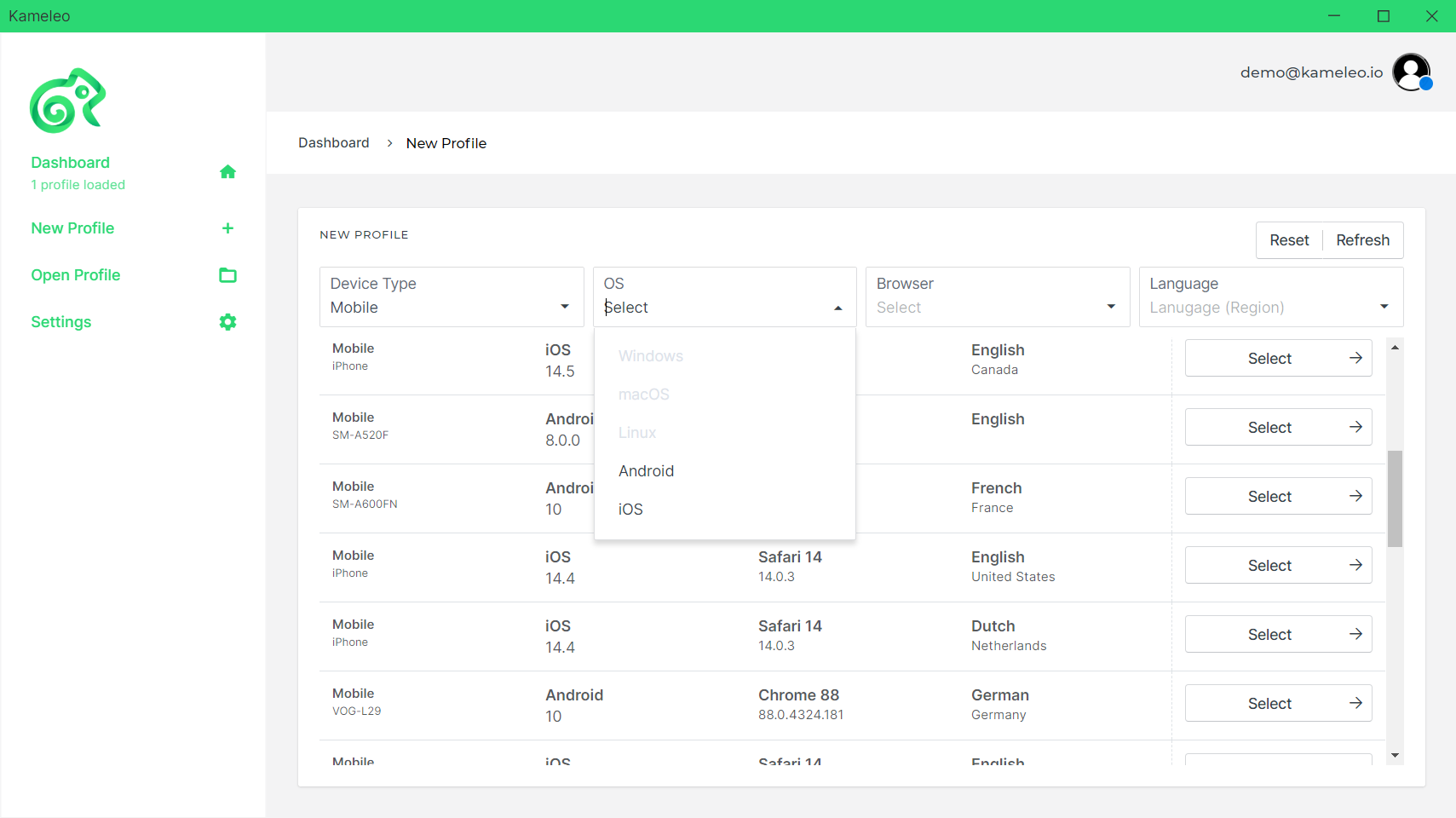 After you selected your preferences you will see a list of base profiles like in the case of Kameleo Desktop profiles. Simply select a profile from the list. You will be able to configure the details later.
You can even set up a Proxy for the profile. This lets you browse with your phone while connected to any type of proxy (SOCKS5, HTTP(S), SSH). Here I set up the profile to connect the 911 S5 Client that is running on my Desktop computer.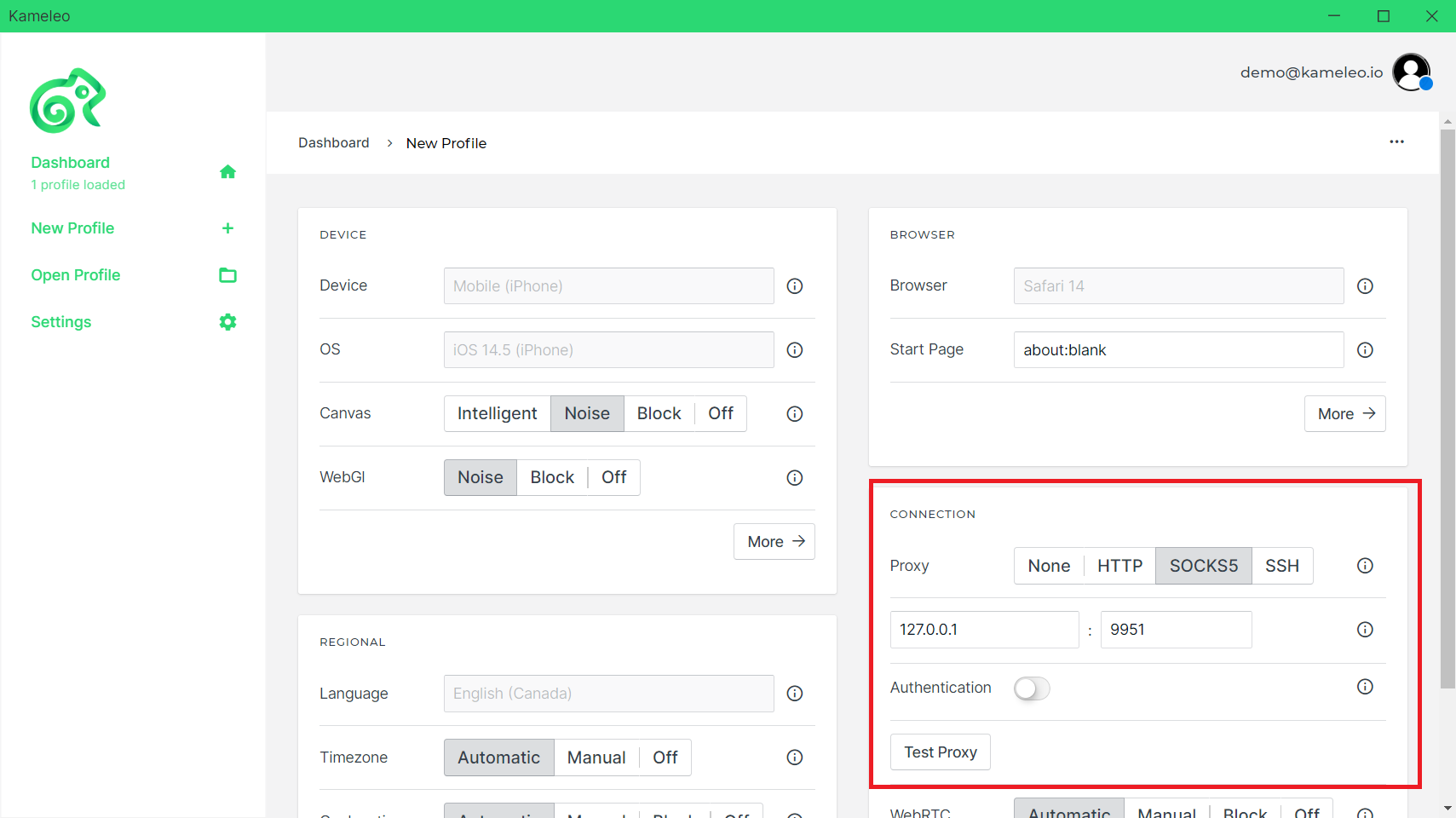 Once I start the profile it won't start a browser like in the case of Desktop profiles but it will print the connection details of the External Spoofing Engine.
The External Spoofing Engine is running on your desktop computer where Kameleo runs. You can start as many Mobile Profiles as you want. All of them for different profiles. Then you can connect to them with your phone(s).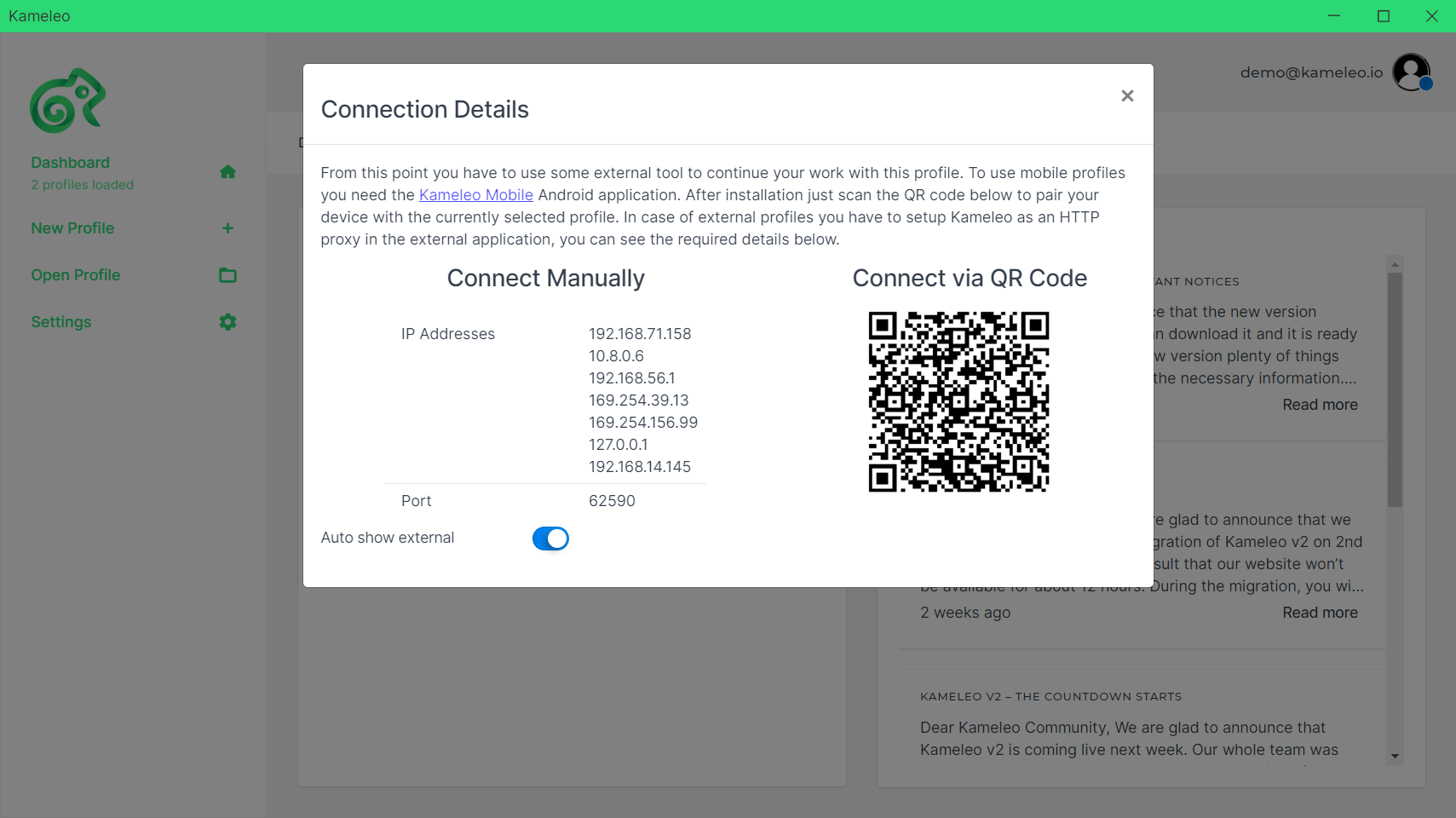 Connect the External Spoofing Engine
Once the External Spoofing Engine is started on your desktop computer you will be able to connect to it with your Android Mobile device through the Kameleo app.
In order to be able to connect to the Spoofing Engine, you will have to access the same private network with your mobile as your desktop computer. If you are connected to the same WiFi it will be easy.
Open the Kameleo Android Application and use the Connect with QR Code button or insert the connection details manually. For manual connection, you may have to try all the different private IPs of your host computer since most likely only one of them will match with the network that your mobile device is connected to. Please note that your desktop computer's Firewall rules can block the mobile app to connect to the External Spoofing Engine.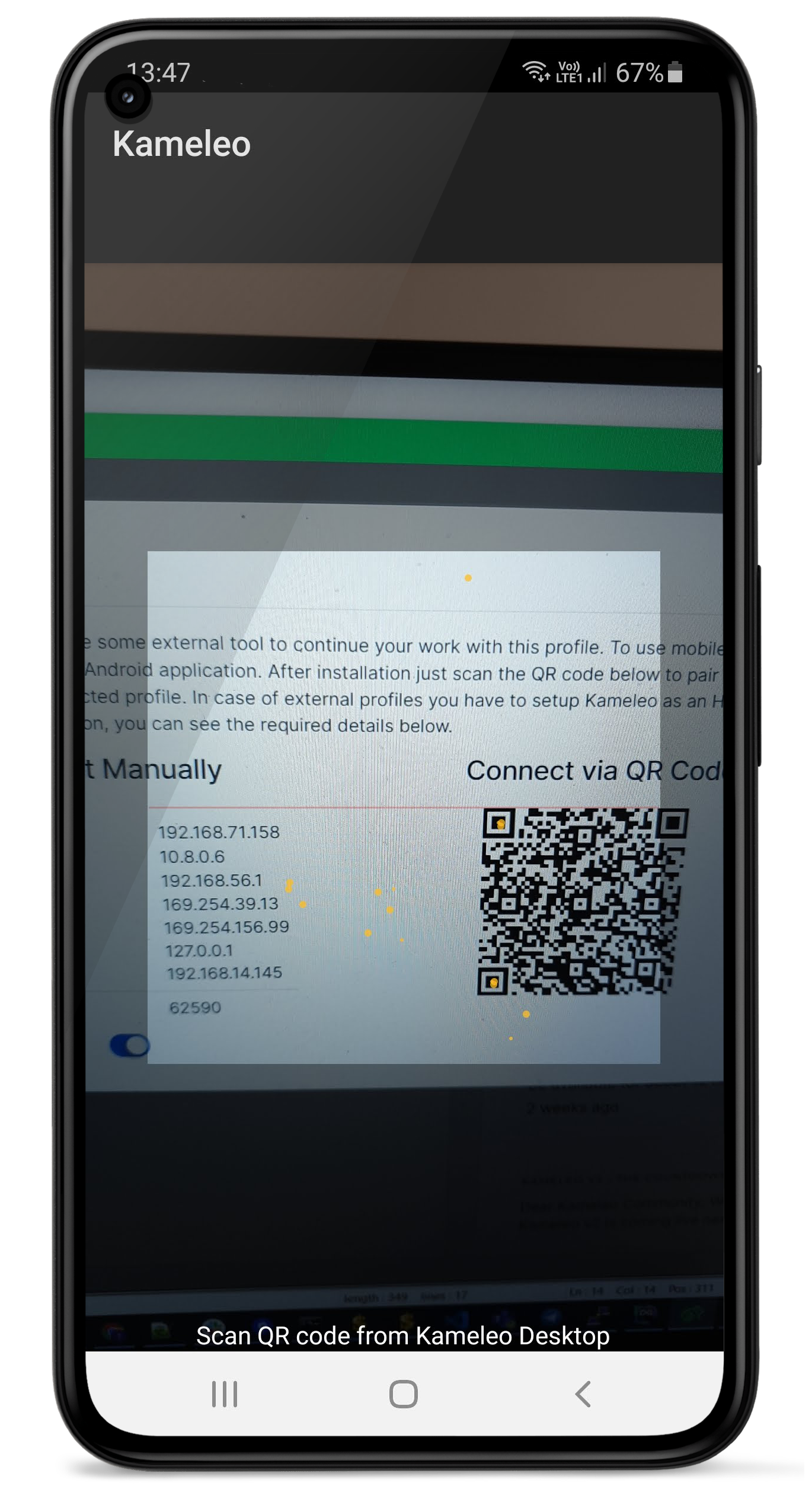 Once you are connected you can browse with perfect anonymity.
Your IP will be changed if you are using a VPN or a Proxy on the desktop machine.
Your browser fingerprint is changed to a mobile device's fingerprint configuration.
Your behavior will also be like a mobile device's behavior. All the touch events and gestures will occur so you won't be suspicious.
Error – Can not connect the spoofing engine!
Connecting the Spoofing Engine with your phone can be unsuccessful. We created a separate article to help you with the connection.
Kameleo Mobile Browser
The Kameleo Mobile Browser is a fully functioning browser. It can handle different pages, browsing history. Even your browsing history and cookies will be saved for each of your profiles separately, if you use the Close Browser from the mobile app.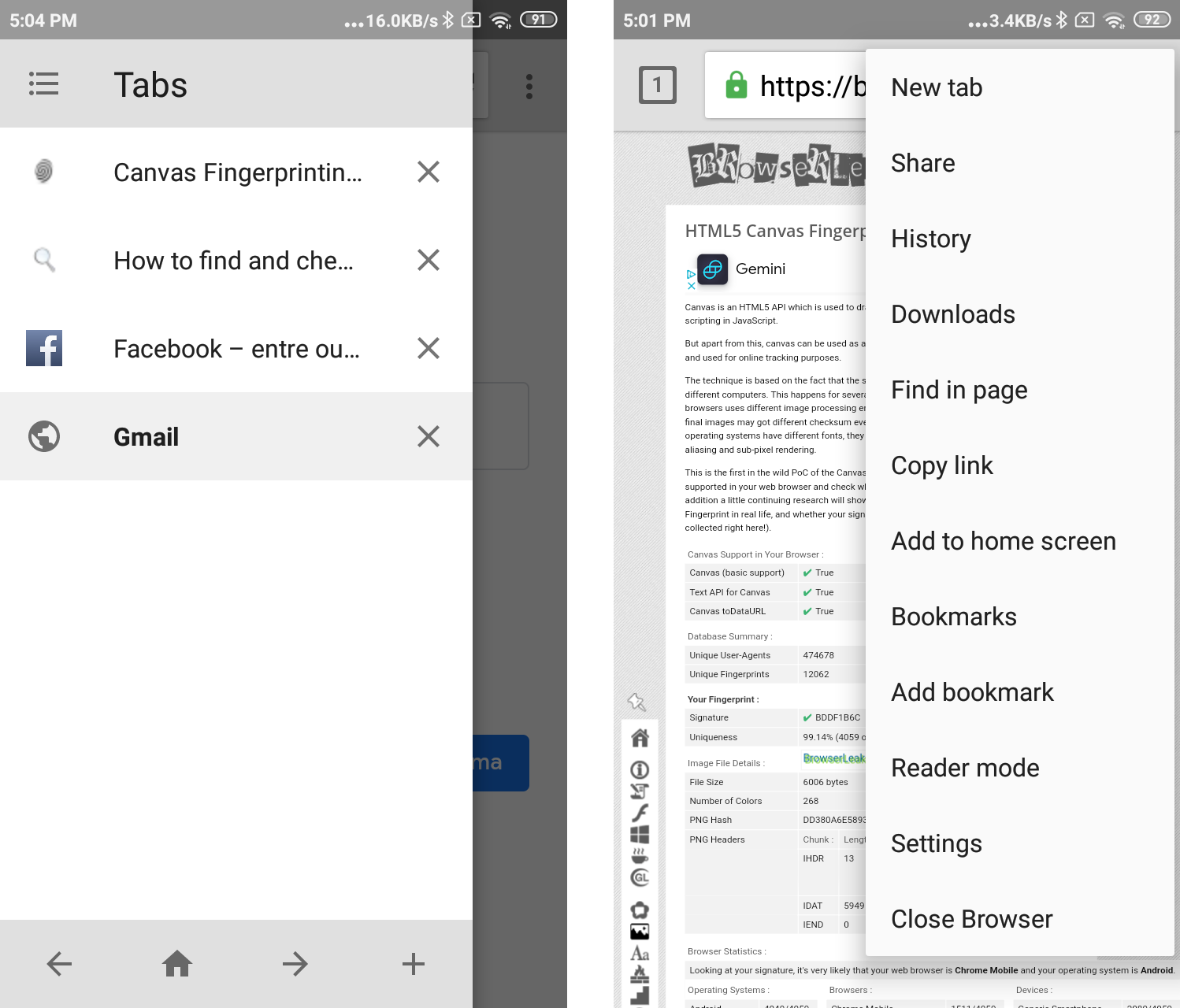 The good news is that all the browser fingerprint spoofing functions are working on Kameleo Mobile as on Kameleo Desktop.
Change canvas fingerprint
Changing the canvas fingerprint is one of the most powerful features of Kameleo. It is not just simply overrides the way how the canvas is drawn but it tricks the machine learning algorithms and provides a natural but changed canvas fingerprint. Read more in our article about canvas fingerprinting.
The same quality of canvas fingerprint changing is implemented on Kameleo Mobile.
As you can see in the image above the fingerprint is changed and looks perfectly natural and consistent. It is not 100% unique like it has resulted in most of the privacy tools, but something like 99.xx%. The profile I selected is an Android with a Chrome mobile browser. Just as can be seen in the picture.
WebGL Hash spoofing
Another strong feature of Kameleo is the way how it changes WebGL. Its technology enables the spoofed browser to look perfectly natural while the WebGL hash can be unique for every profile. This is working on Kameleo Mobile Profiles as well.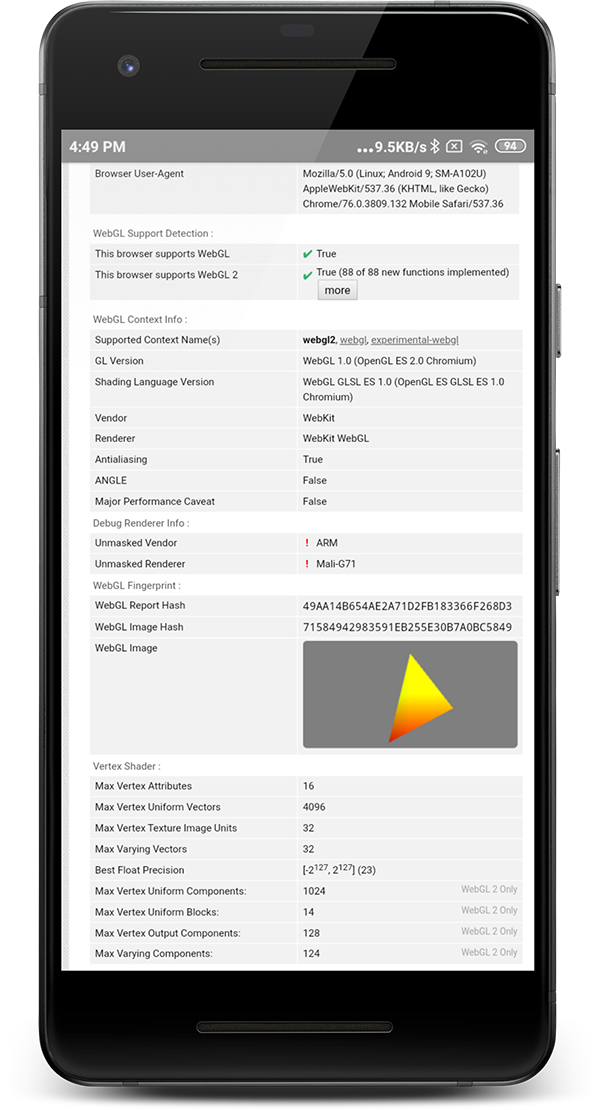 Change Geolocation with Kameleo Mobile
Requesting the location of a device is not just possible through its IP address but also with the Geolocation API. To make your virtual profile more natural and enable browsing without issues we encourage you to change your Geolocation as well. This is also working with Kameleo Mobile Profiles.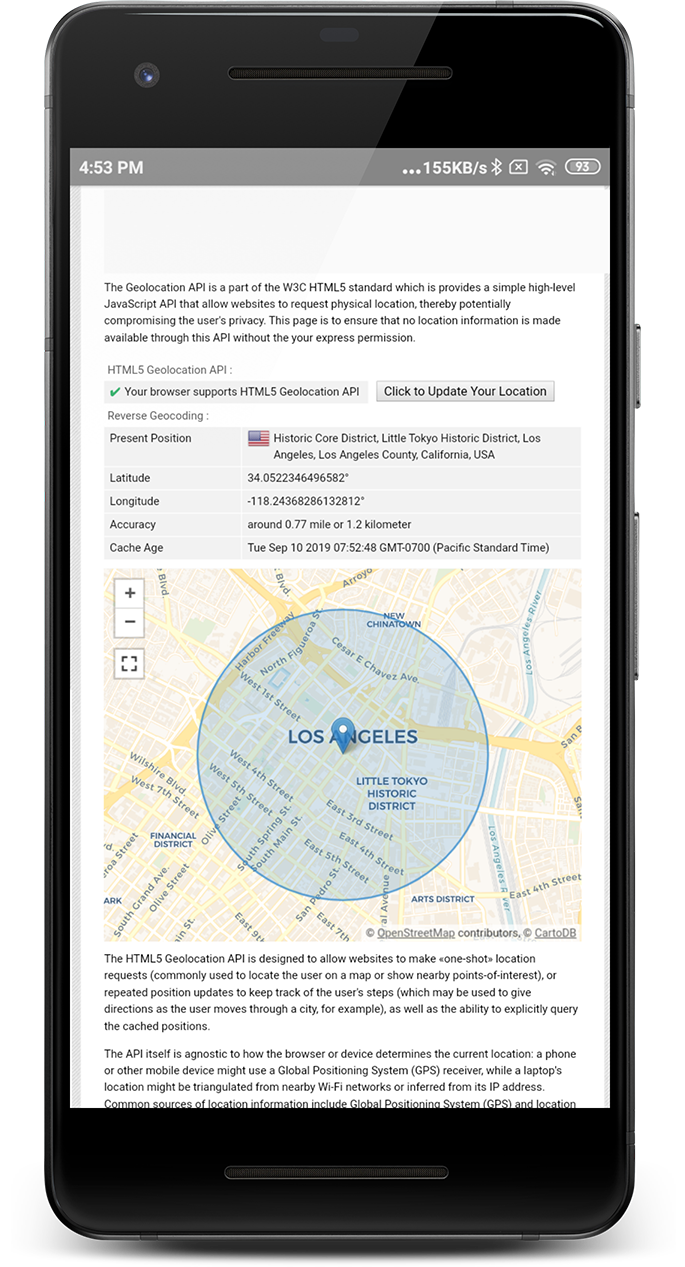 Other Browser Fingerprint Changes with Kameleo Mobile
As we said all the features are working on Kameleo Mobile as on Kameleo Desktop.